Kuanth Art and Design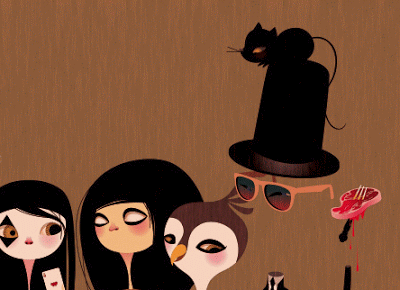 Kuanth counts art and design as his absolute passion. Deskbound for five years in the publishing and advertising industries, Kuanth broke free to become a freelance illustrator in 2002. He also went on to sew some clothes, make some dolls, daydream, exhibit his work, raise a lovely boy named Noody (woof!) and the rest is history.
How did you begin?
Having worked as a senior graphic designer in the publishing industry for 5 years and a year in an advertising agency, I left the agency to become a freelancer illustrator. I love being surrounded by beautiful and creative things. That's why I created my own brand Mistake, it's my very own platform of expressing my thoughts. From decorative display to haute tableware, from dolls to fashion accessories. I believe perfection is boring, mistakes can be beautiful. Mistake by Kuanth, is an expression of thoughts  branching from unusual places where anything goes. It doesn't conform. It doesn't alienate. It doesn't judge.
what are your inspirations?
Friends, family, my dog, fashion, traveling, good food, home and decor, photography, graphic, typography, products, magazines, music, places... basically anything and everything.
favorite magazines?
I used to be so crazy about trend and fashion magazines while I was still in the magazine line. But I guess I have changed after I left the industry. Now I'm more onto something related to home and deco or food. My favorite magazines for now would be Elle Decoration UK, Vogue Living Australia, Donna Hay and hintmag.com, I always feel inspired while reading them.
favorite 3 websites?
How does New York city inspire you as a person or in your work?
Em.... I don't know much about this, but I like New York as I see a lot of possibilities there in every corner. I felt a lot of positive energy during my stay in New York which I guess It makes me want to be better in what I'm doing.
The three most interesting projects you have worked on 
(1) work for www.hintmag.com - It allows me to be myself and think as quirky and dark as I wanted.
(2) my first comic for LiquidCity (http://www.liquidcitizen.net/previews.html) - I'm able to draw my first and ever comic, and it's going for the French market soon next year.
(3) Mistake by kuanth (http://kuanth.blogspot.com/2007/11/finally-i-have-created-some-new-stuffs.html) http://kuanth.blogspot.com/2006/10/launch-of-mistake-by-kuanth-part-1.html - My own product line, as I have all the freedom to create or experiment anything I like.