Steve Aoki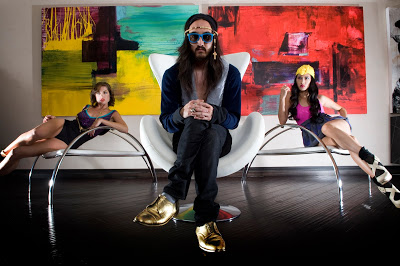 Steve Aoki, also known as DJ Steve Aoki Kid Millionaire, (born November 30, 1977) is an American DJ, record producer and the founder of Dim Mak Records, who founded and released artists from Bloc Party, The Kills, Klaxons, MSTRKRFT, The Bloody Beetroots, Mystery Jets, The Rakes, The Gossip, Envy, also is the same man behind the production moniker Weird Science that has remixed Peaches, Snoop Dogg & Bloc Party.
Aoki
has also remixed The Killers, Robin
Thicke
, Lenny
Kravitz
, Duran Duran and
Timbaland
, S.P.A., Chris Cornell & more. In the past he has collaborated with artists from Boys
Noize
, The Faint, D.i.M., The Bloody Beetroots, & Junkie
Xl
. Also involved in fashion,
Aoki
has developed lines for KR3W Apparel, Supra Footwear, headphones for
WESC
, and in '09 sunglasses with
KSUBI
,
headwear
with
NEFF
, bags with Burton, & a brand new
mens

/women's range
with his sister Devon.