Ancient Astronauts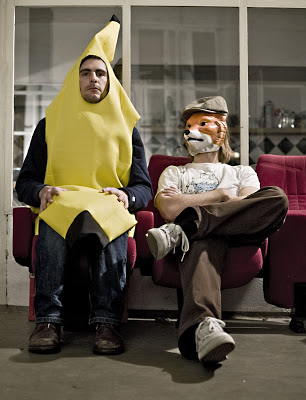 photo by Oliver Kurzemann
The very name, "Ancient Astronauts," implies a mash-up of the distant past and the far future; traits exemplified in their melding of old school hip hop, funk, and dub reggae with forward-thinking flair and production technique. The Ancient Astronauts are Kabanjak and Dogu hailing from Cologne, Germany.  The duo, with one of the most anticipated albums of 2009 can only confirm that they returned to planet Earth in 2001 after traveling the musical cosmos for thousands of years. Already having remixed for Fort Knox Five, Up Bustle & Out, Ladybug Mecca of Digable Planets, Zion I, and Dr. Rubberfunk, the Ancient Astronauts have linked up with a variety of new sonic collaborators including Bootie Brown and Imani of legendary hip hop group The Pharcyde, Azeem, Tippa Irie, Bajka, Phat Old Mamas, Ulf Stricker, Raashan Ahmad and Entropik to record their debut album We Are To Answer. They are the newest ESL signing,  and the released album debuted on June 9th. This is my personal favorite album of 09 and is a show I wouldn't miss this fall.
How did Ancient Astronauts begin?
First we just started doing parties together in our hometown cause we had similar musical tastes and we were tired of all those parties with stupid chart pop music or cheap house music. Then we started to produce music together and spent a lot of time in the studio working on a direction of sound that incorporates both of our tastes. It took a while to really know where we wanted to go with our productions. We released single tracks on several label compilations and 12inches of our label Switchstance Recordings since 2001 and since the beginning our music was sold internationally. During these years we did a lot of remixes for people like Fort Knox Five, The Jungle Brothers, Kid Loco, Ladybug Mecca (of Digable Planets), Zion I & The Grouch, Dr. Rubberfunk, All Good Funk Alliance, Zion Train and more. Definitely highlights  so far have been our dj sets in the snowboard culture when we, for example, were the mountain dj´s at the Burton European Open in 2005 in Laax/Switzerland or in January this year we were the stadium dj´s of the Billabong Air & Style contest in Innsbruck/Austria for an audience of more than 13.000 people. Another great memory is when we hosted the Groove Tent at a big festival in Austria where Placebo were the headliners. At night when we shaked up around 3.000 people in the tent the manager of the band came to us and asked if it was ok that the band could dance in our dj area (they were dancing inside the people on the dancefloor) because they were loving the music we were playing and security had problems keeping the fans away from them.
Greatest inspirations or influences?
Kabanjak: There are so many inspiring things out there. I guess we could write a book about who or what has influenced us. Wether it´s music, books or painted art we´re open for everything. But a great part of inspiration has got an American background, like Hip Hop, Jack Kerouack, Charly Parker or even Jackson Pollock... Dogu: Yeah American Hip Hop was a strong influence but also Jamaican Rockers Reggae and Dub or african Funk. As far as deejaying goes the UK scene was the biggest influence for me. Labels like Ninja Tune, Mo´ Wax or Catskills showed us the direction of instrumental but very musical and melodical Hip Hop and Dopebeats.
Upcoming shows, tours, music events? We will do our first USA tour in September and will play cities like New York, Washington DC, Miami, Austin, Boston and more. We also do a event series called Trix & Flix in Cologne which is 4 to 5 times a year combining videopremieres of selected international snowboard- and skateboard- movies with an asskicking party night on 2 floors. The next event is in September and we have some great movies to show and the cologne crowd will kick hard on the dancefloors.  Were working on dates for Bucharest, Sarajevo, Essen, Innsbruck and more right now. Favorite artists? Kabanjak: Every unique artist doing his thing and staying true to himself and his art. But to name one it could be Tom Waits for me. He puts so many different musical styles together and makes it his own. When you listen to the radio you need one bar to know this is Tom Waits. That´s what makes him one of my favorite artists. Dogu: I have to agree that every unique artist staying true to himself and his art deserves highest respect. Favorite artists for me are Bonobo, DJ Krush, Mos Def or Burning Spear because their music is timeless and original. When I heard them for the first time I got this feeling that I listen to something very special and unique. There´s some magic about their music and how they do it in their genre. Best part of being a part of ESL music?
To be part of the family. We´ve been diggin´ their music from day one. To stand aside such artists like Thievery Corperation, Nickodemus or Ocote Soul Sounds speaks for itself. ESL Music gives our music a platform that we never had before. Now we really know that our music will reach people all over the planet.
Why has Germany become the hub for music in recent years?
Kabanjak: As I heard on the radio yesterday, Afro-American musicians were touring Germany already in the 19th century and left a great impact on the musicians here. They introduced the Germans to early jazz forms like the Cakewalk. We also have got a long musical tradition of our own. Whether it´s Techno or Classical Music or Krautrock, I guess German people have always been very open for music. Dogu: True. We also have a long culture of Reggae live concerts and soundsystem parties in Germany. Reggae became really huge and some acts became real popstars within the last 10 years. Also the Gypsy influenced Balkan music became very strong in the past years and through radio stations like Funkhaus Europa world music got more and more followers and events and club nights that are dedicated to this music got bigger and better. There´s so much different styles of music which makes Germany very interesting to go out and enjoy good people and music.
www.myspace.com/ancientastronautsswitch