Zakee Shariff Art & Design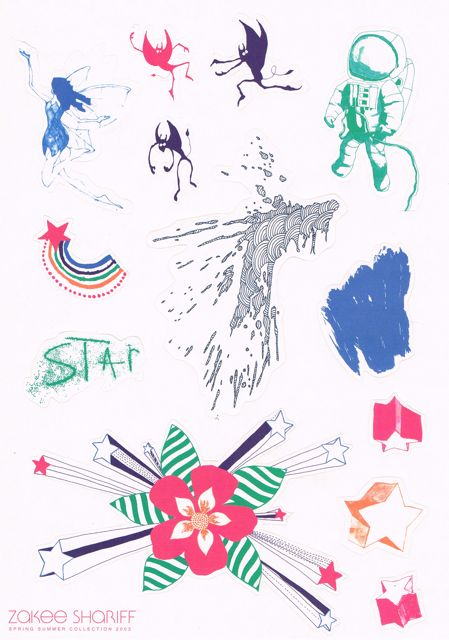 I am  excited to profile Zakee Shariff an artist and designer based in London who's aim always remains the same- to touch people through her work, spreading a message of peace and love while encouraging people to think more deeply about the world they live in. In 2005 she decided to branch out from fashion to explore different creative avenues, particularly her love of collaborative projects. The result has been a wide diversity of acclaimed work within fine art and illustration, fashion and textiles, interior and product design, styling, publishing, and art direction. I can't get enough of her rainbow tiger illustrations and identifiable creations.
Career Highlights Zakee?
When the V and A bought one of my silkscreen printed drawings for their print collection.
Traveling to Japan for many years for work, I love it out there, and feel blessed that I have met and worked with such amazing people.
Seeing my clothing on people in various parts of the world while walking down the street.
Working with the artist Jamie Reed many years ago creating silks screen printed fabrics with him.
Staying up late with the artist Futura 2000 in Japan, talking about life, the universe and just about everything.
Drawing in collaboration on a wall with the artist Cody Hudson in My friends Gallery space/shop Hejfina, in Chicago for a collaborative show we did.
Some of your favorite projects?
My first solo art show a few years ago at London Printwork Trust. It was amazing that they trusted my vision.
Making artwork with my dear friend Ros Miller, and creating the art collab Shariff Miller. It's a very unique connection and one that I wish we could explore much more if we didn't have so many things going on in our own lives.
Creating a pop-up store in Japan with my friends Make Art Your Zoo (MAYZ). Filled with my art, interior product and fashion.
Favorite websites?
One of my husbands sites, I love the Sound FX page in the LOVE section. it makes me laugh!
Hedi Slimane its just pure class. I love the photos on his blog.
Milan-http://web.mac.com/katebanazi/Moofus/Home.html my godson's site, he is an incredible artists for such a young soul. He is now based in Australia, but I like to check out what he is up to.
FATSARAZZI  My dear Bro, and a great street photographer, and writer and I love to see what he has been up to on his blog, he has his fingers in many pies...
Favorite fashion brands?
I'm really into Why Red and Acne from Stockholm. I love the style and the simplicity
Lover in Australia cause its very feminine.
Adam Kimmel cause he is just so original.
Balanciaga again cause its so sexy
Favorite artists?
Robert Rausenburg- I just love everything he did
Peter Doig, his paintings really move me.
All The Beautiful Losers for their inspired action and "who gives a f***" attitude
Martin Parre (the painter) one for his photos the other for his paintings
Wolfgang Tilsman- amazing photography
Toby Ziegler- amazing painter
Dan Holdsworth- beautiful landscape photography
Cody Husdson- Love his drawings.
I could go on and on.
What would be a dream project? wow hmmm so many ... I guess being asked to make a solo show of artwork and design , being given the funding to make whatever I would like, and then taking the show around the world, visiting all sorts of places. and watching and learning by peoples interaction and reaction to the work. What do you love most about NY and London? NY always feels like my home from home, my step father is a New Yorker, so I have spent allot of time out there. It's so fresh and exciting and as a creative it just feels like a thriving place to be creative in. I love hanging with my friends in NY, its a place in some ways i find it hard to put into words, it just inspires me and makes me feel alive and the spirit of my friends there just makes me feel warm inside. I hate to leave there.
London, is my home town, many of my family and friends are here. I love the breath of culture here, that you can be totally anonymous if you choose, and if you ever feel you need to be inspired you just have to walk done the road, or open Time Out and choose a place or even to go to and your mind is filled with goodness. There is so much art here to see, which I always feel so lucky and grateful about. London people are strong and I love that about my city.
Zakee Shariff Art + Design Studio www.zakeeshariff.com