Dj Edgerton of Zemoga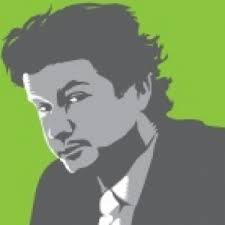 Long considered a pioneer in the field of interactive marketing and communications, DJ Edgerton is the Principal and Co-founder of Zemoga, an award-winning full-service interactive agency. With offices both in New York and Bogota, Zemoga has worked with a range of clients such as Sony Music,Maxim, Nickelodeon, The Biography Channel,and many others. One of DJ's latest achievements is the Crazy Redux video http://www.youtube.com/watch?v=2zSfZ9juF3M, a Bush and Cheney anti-war parody, composed by himself, which has been selected as an Official Honoree for the Music Category in The 12th Annual Webby Awards. Congratulations Dj!
How does New York influence your creativity? NYC is the center of it all so when you immerse yourself in a creative and cultural soup like NYC, you can not be unaffected. The museums, the shops, the nightlife...they all have a concentrated effect on how I approach work.
Favorite Spots? Mimi's on 52nd and 2nd. It is a piano/ karaoke bar unlike any other ..with the greatest mix of NY personalities in one place. You can listen to a trained opera singer belt out a tune while the moo moo sporting pianist "Hunter Blue" tickles the ivory's to the delight of the Park ave set, an odd mobster or two and family of Gypsies... all enjoying some tasty veal Parmesan together.
Favorite restaurants in New York? Country in the Carlton Hotel-Chef Geoffrey Zakarian puts a light dusting of truffles on the truffle stuffed truffles. I like truffles. Sammy's Romania near the Manhattan Bridge. Best Chopped Liver in the world and who doesn't drink their vodka in a block of ice?
Top played songs on your ipod? Regina Specktor-Better Snow Patrol-Chasing Cars Dave Brubeck- Blue Rondo a la Turk
Top 3 favorite brands? Apple- Best brand culture ever. Nike- Makes sport sexy Andres Carnes de Res- The greatest cacophony of handmade commercialism I have ever seen.
Favorite websites? ebay-where else can you buy a helicopter for 5K youtube-the masses now own your brand...tread lightly. Facebook- Humorously functional
What makes a site really special in your eyes? Visual engagement. Without out it, then you lose my interest in discovery.
What is the most important or most influential creative campaign that you has created.
I did a invite for a VIP party for the launch of the magazine "MAXIIM" in the US. It was sent to celebrities in NY and Hollywood and showed a woman on the cover with a long tongue...and at the end was a "magnetic" tongue piercing that you could take off and wear. It was pretty successful in communicating the fun "carny" atmosphere of the party, as a result a bunch of A Listers showed up, the part gained a ton of press for the launch and the invite was featured in Entertainment Weekly. When creating design that is successful in achieving it's business objective...and is still fun.... what better job is there than that.
www.zemoga.com